Optical Character Recognition, OCR, is a technology that recognizes text within images. It allows PDF Architect to differentiate the text from the rest of the image so you can edit it.
You will be able to recognize an image by the red border that surrounds it when you select it while in Edit Mode.

When the whole page is one large image, it is indicative of a document made up of scanned pages. Without OCR, they cannot be edited easily.
Once the image is selected you need to use the OCR to make the text editable.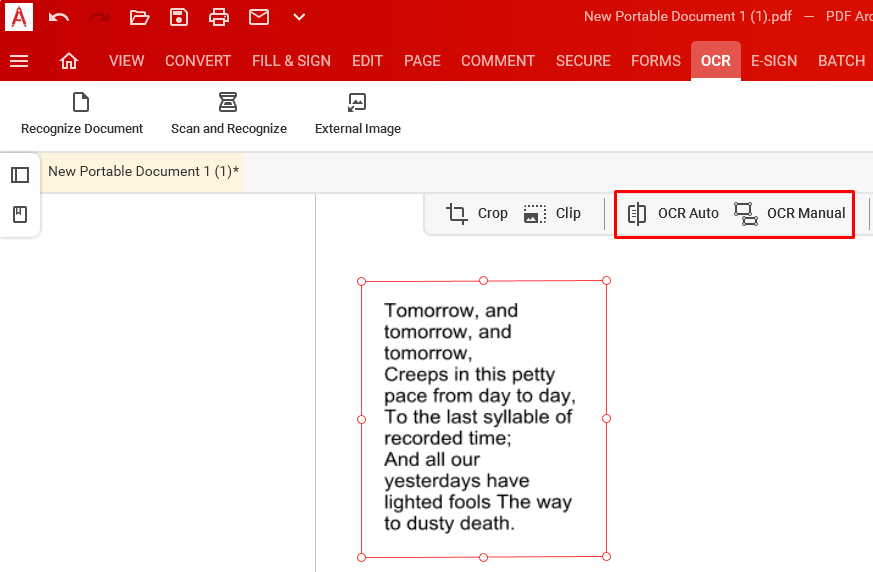 Auto and Manual OCR
These are only active when an individual image is selected. Rather than scanning an entire document, you can work image by image. These features do not create a new file but scan the image within the existing PDF. Click here to learn more.
Recognize Document
If you have a document made up of several scanned pages that need to be recognized and edited you need to open the OCR module and choose the Recognize Document option:

In the dialog box that appears you can specify the pages to recognize.
After the recognition process is finished, a new file with the recognized text will be created in a separate tab. Your original file will not change.
External Image
To recognize the text of an external image to PDF click External Image.

A Browse window will open where you need to select the file. Click Open.
Once the image has been recognized, it will open in a new portable document within the PDF Architect application.