PDF Architect provides you with a powerful tool to get documents signed securely. You can create a Document Package which contains:


The specific requirements regarding who should sign each document.
The type of signature they should provide.

During the advanced send flow, you'll be able to configure the document package.






Creating Your Document Package

If you have a document open in PDF Architect, it will automatically be added to your package.


Click on Add Document to select the files you need signed.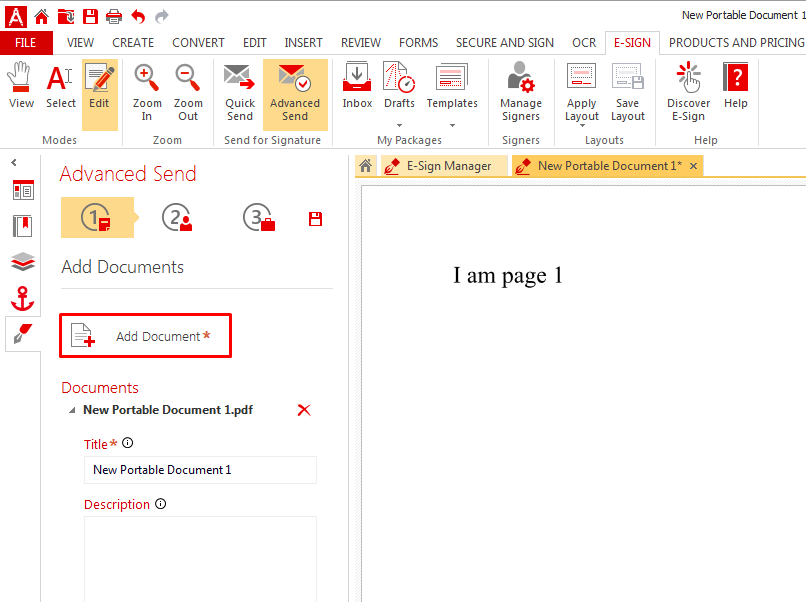 Click on

Add Files

to open a Browse Window.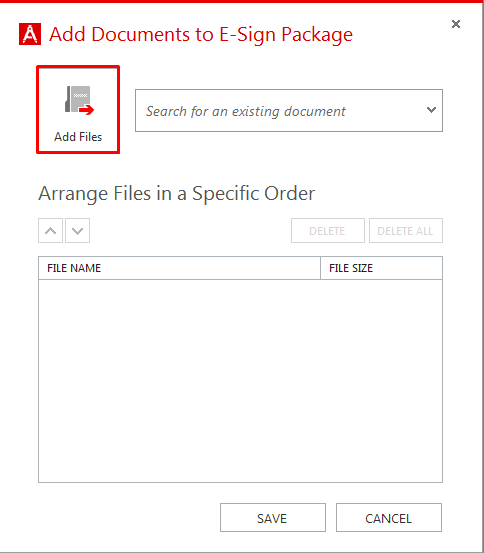 Your files will appear in the box below. They will be displayed to your signers in the order they appear. You need to set the order for your PDFs here.
Use the arrows to move it.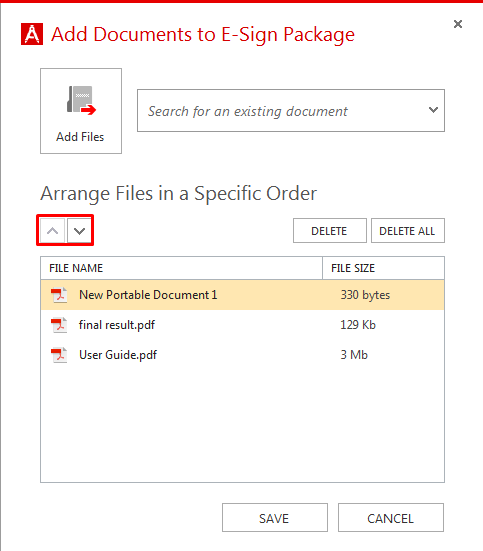 The Delete option will remove the highlighted document.
Delete All will clear everything from the list.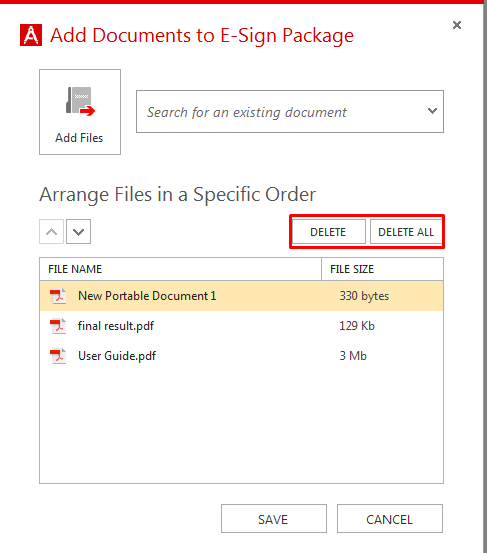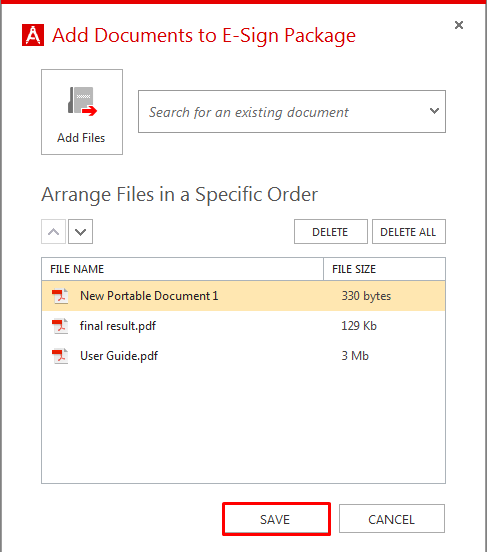 You can edit this list at any time by clicking Add Document again. There are a few options for your files.
Click the arrow next to each document to expand it.





The document will become the active PDF.
Under Title you can rename it.
You can add a Description.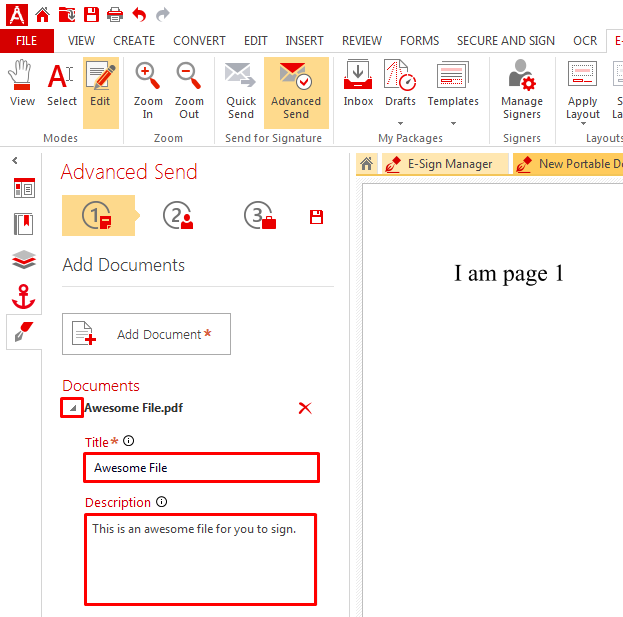 You can remove any document from your package by clicking on the

X

next to it.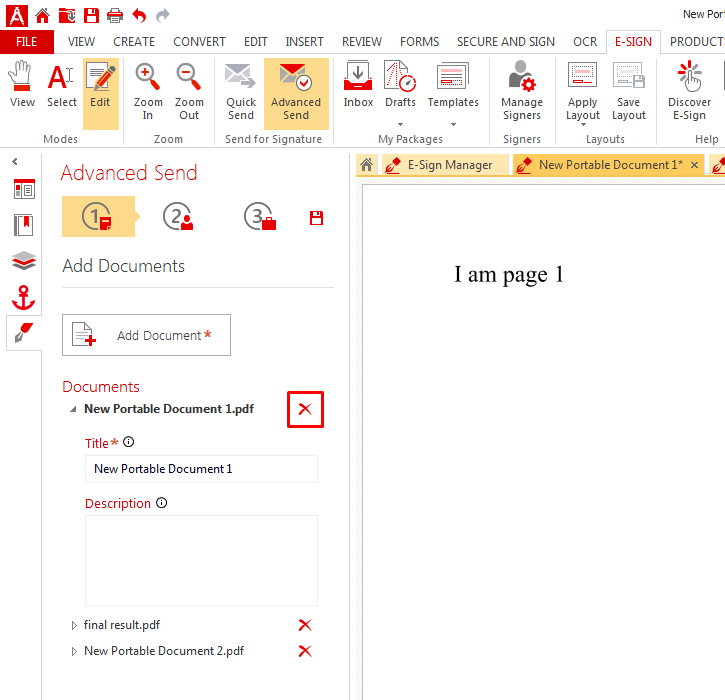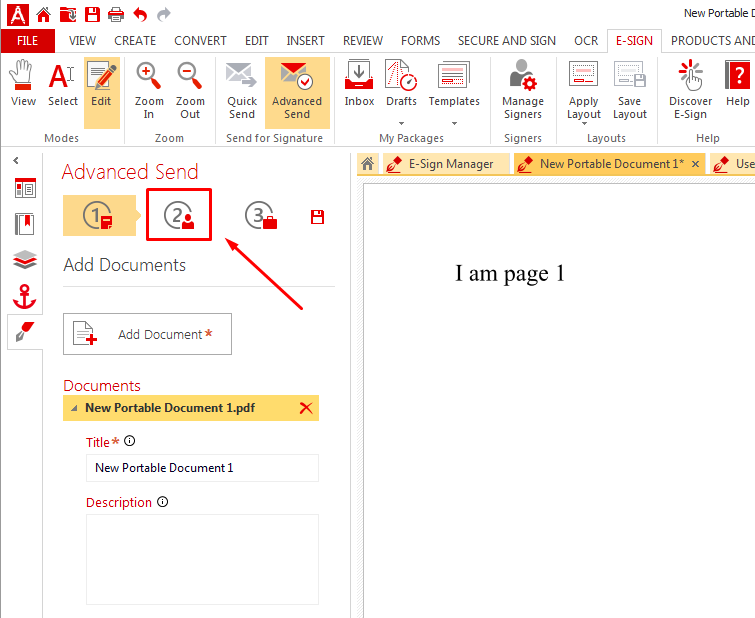 Setting Up Signers and Signatures

In step 2, you will add signature fields to your document. These fields are where the recipients of your document will sign. You can apply as many signature fields to a document as you want.

Signers are the people who will receive your document. You will associate each signature field with a signer. You will have to add your signers to PDF Architect. Click here if you need help with that.


Click the dropdown under Select Signer and select one.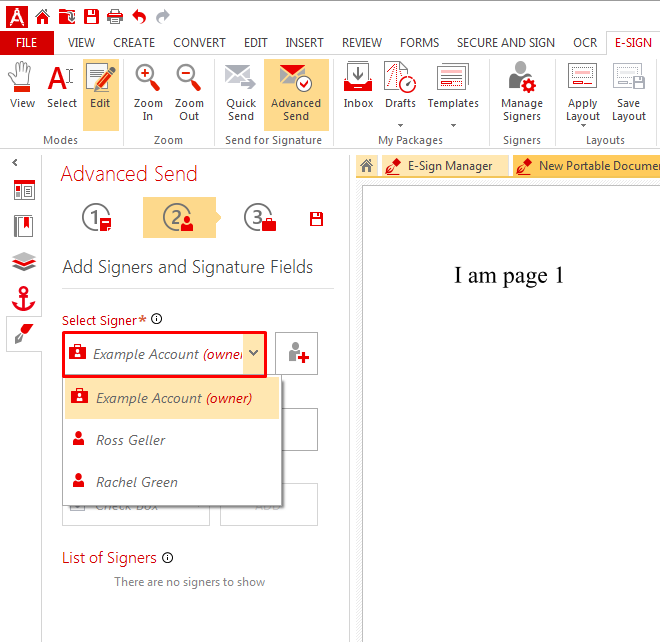 You can choose the type of signature. You can request their Signature or Initials. The signer will be able to configure the aesthetic during the signing process. Click here to learn more.
Click the dropdown under Add Signature Field and choose one.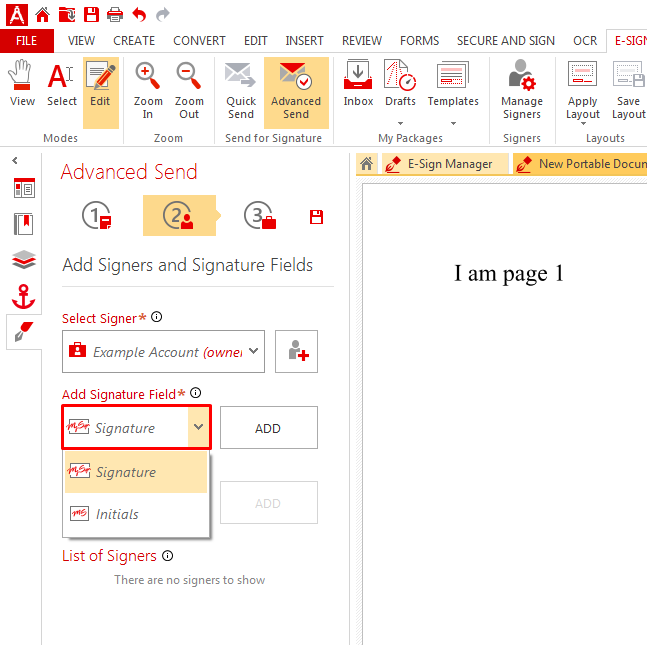 Move your cursor on your document and you will see the signature field appear.
Left-click and drag the cursor to set the signature field's size.
Release the mouse button to place the field.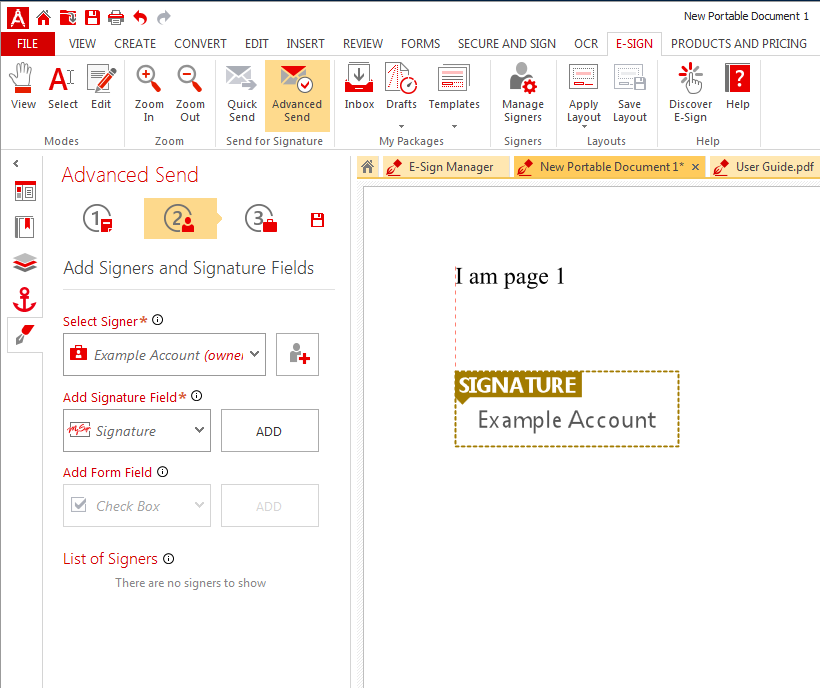 Select the field while in Edit Mode to resize or move it.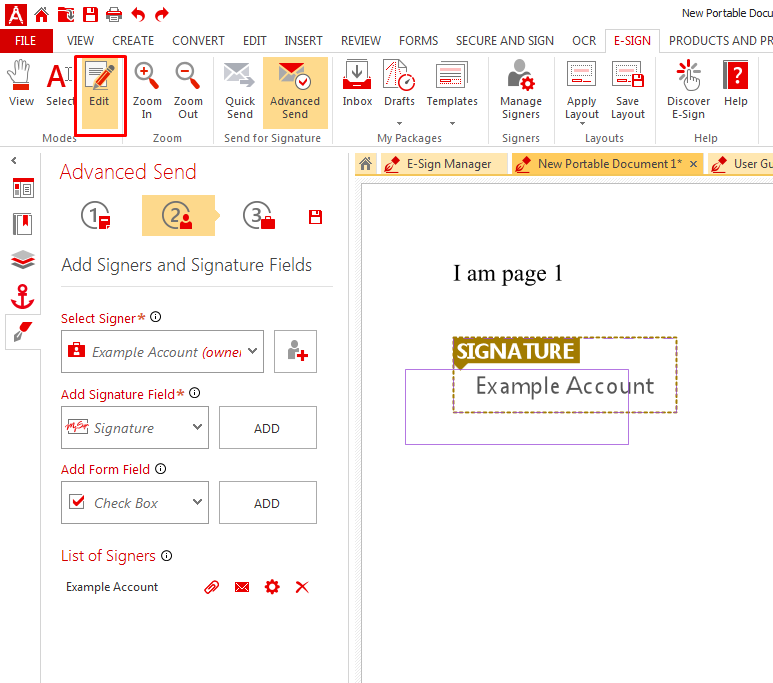 You can add form fields that are preconfigured to help you capture extra information. Each form field is linked to a specific signature field.
Select a signature while in Edit Mode.
Open the Add Form Field dropdown and choose one.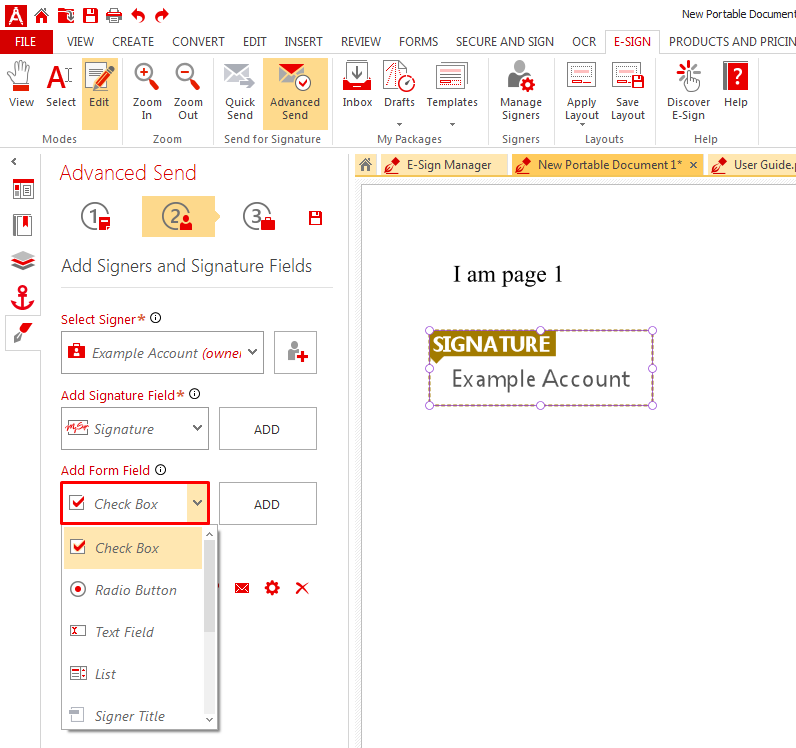 As you move your mouse cursor, you will see the form field appear on your document.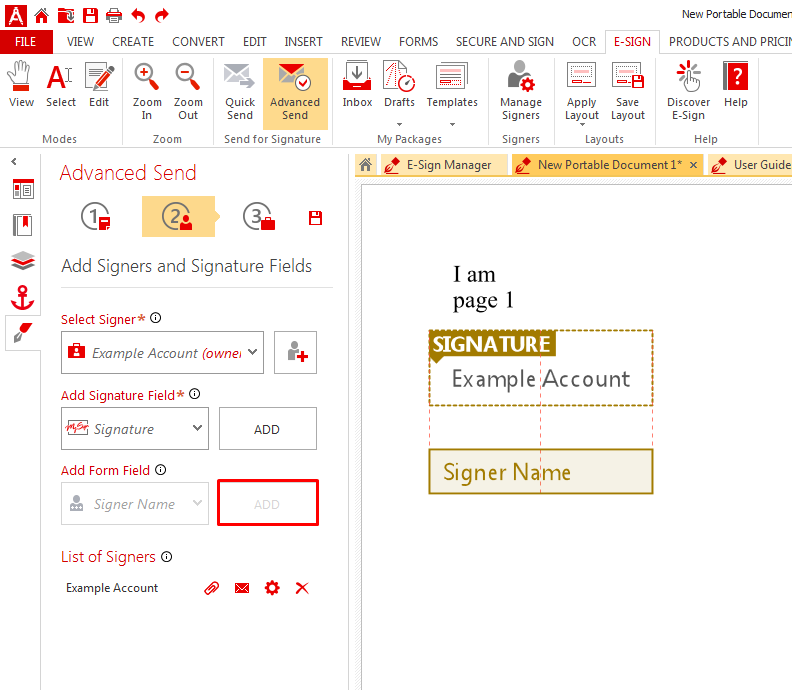 You can also resize the form fields. You can add multiple signature fields to your documents. Each signer you choose will have its own color.

All signers will be listed at the bottom.
Click the X next to a signer to remove them from this document.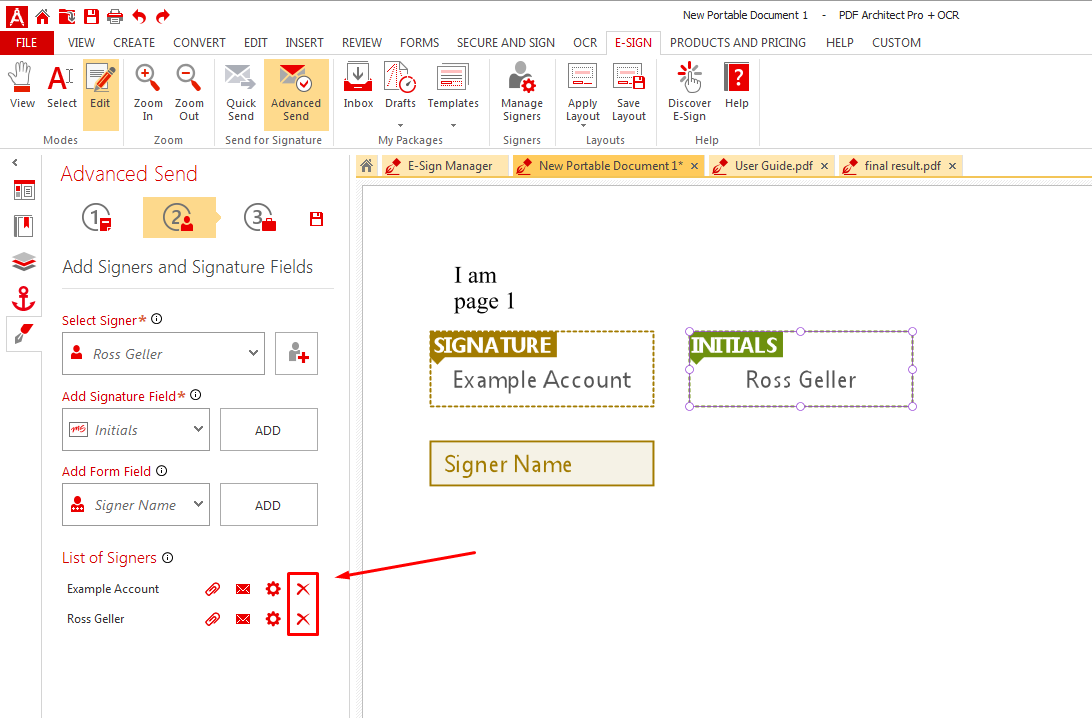 You can manage signer requirements for your document package, click here to learn more.

You will need to add signature fields to each document in the package that requires them.
Click any open document to add signatures to it.





The active document's name will appear at the top of PDF Architect.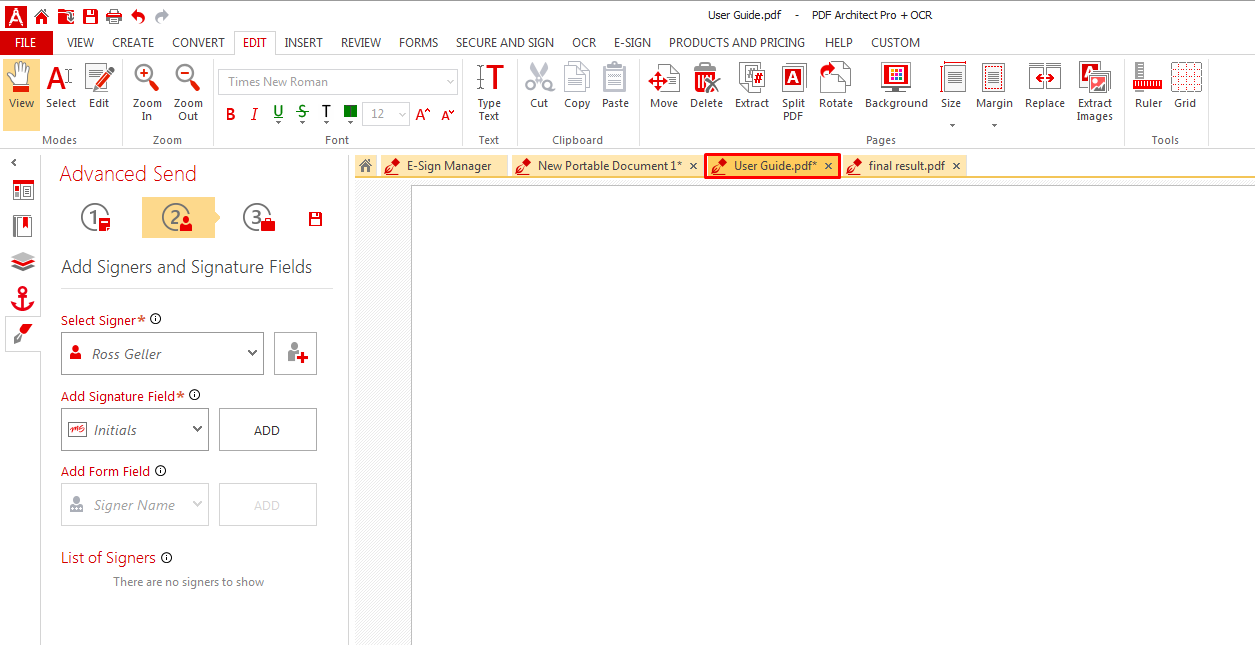 Once you have set up your signature fields, you are ready to move on.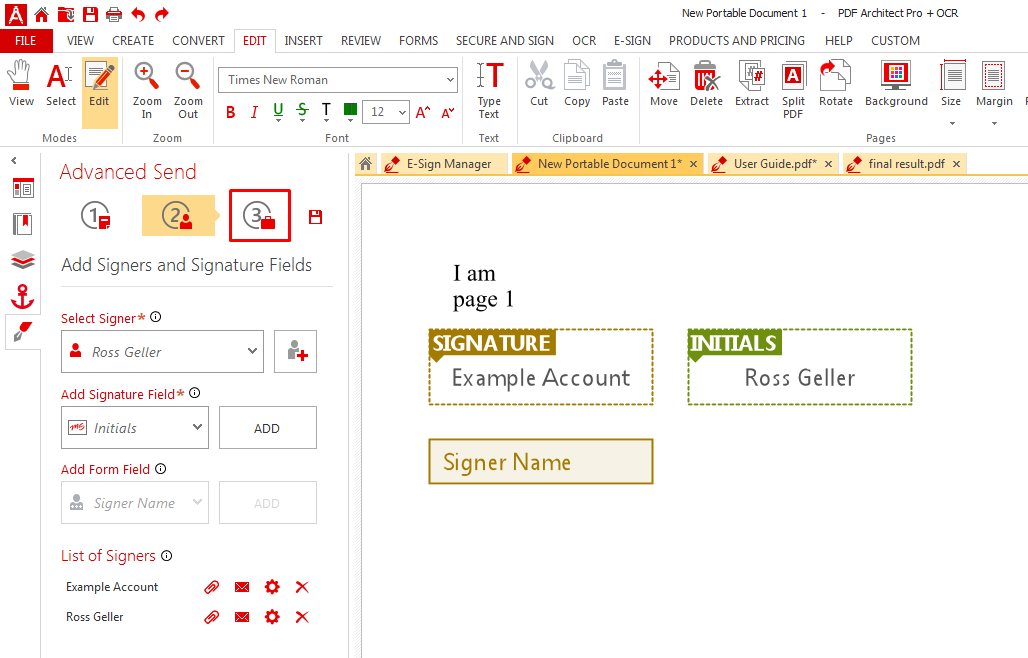 Sending the package

In the last step, you will add the finishing touches to your document package.
Add a Package Name to help you stay organized.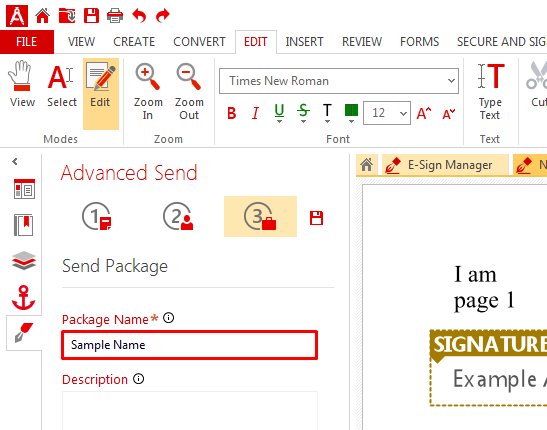 Under Description, you can add a summary of the document package.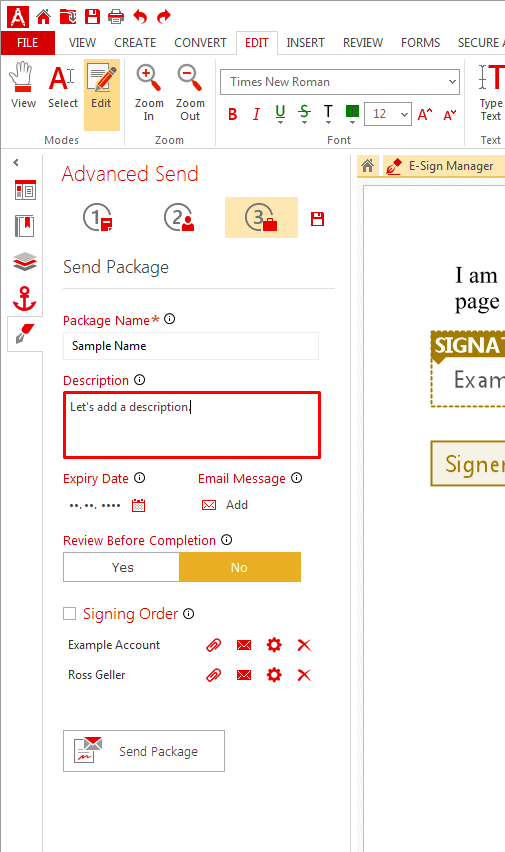 Click on the Calendar icon to set an expiration date.



Should it expire, you will need to send a new document package.
Choose your date by selecting a number from the calendar.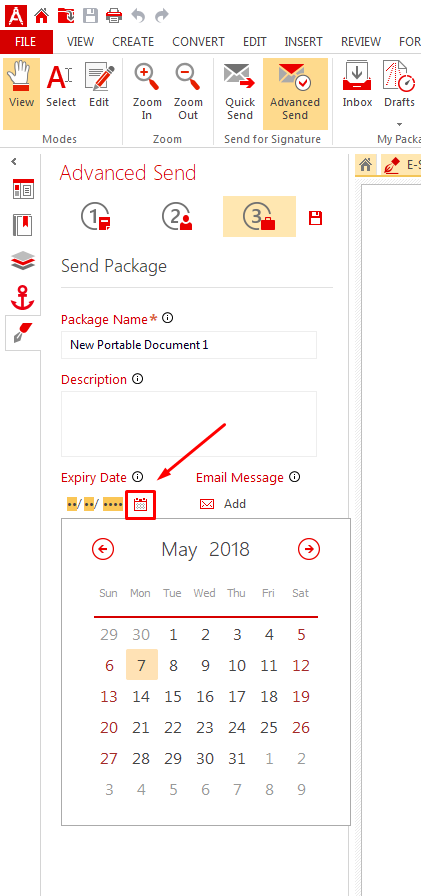 You can add a personalized message to your signers. You will also be able to change the language for the emails you will use to contact them.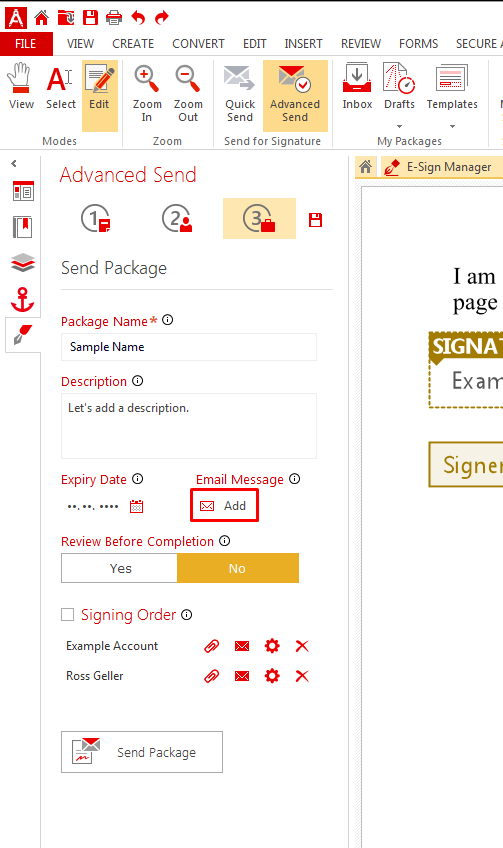 Click to choose a new language.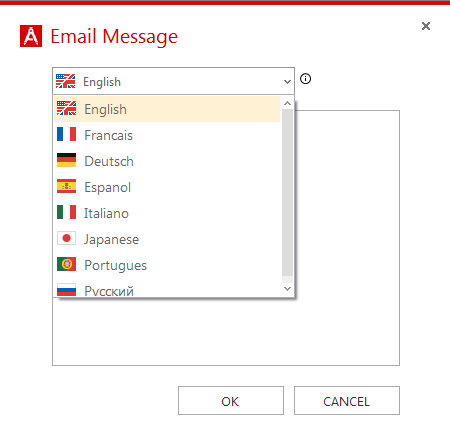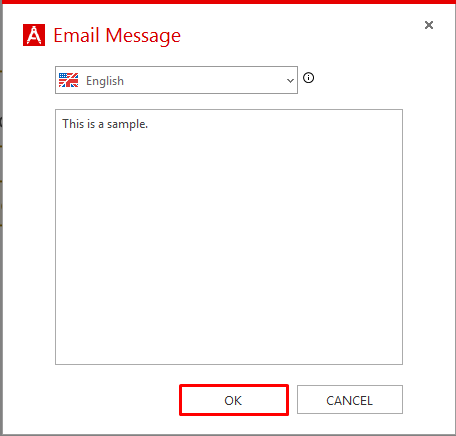 You can choose to review your document package one more time before hitting send. You'll be prompted to authorize PDF Architect before sending it.
Toggle the switch under Review Before Completion.
By default, each signer will receive the package at the same time and can immediately sign.

You can choose to set a signing order. Each signer will only receive the document package after the person before them in the list has finished signing.
Check the box next to Signing Order.
Use the arrows to move them in the list.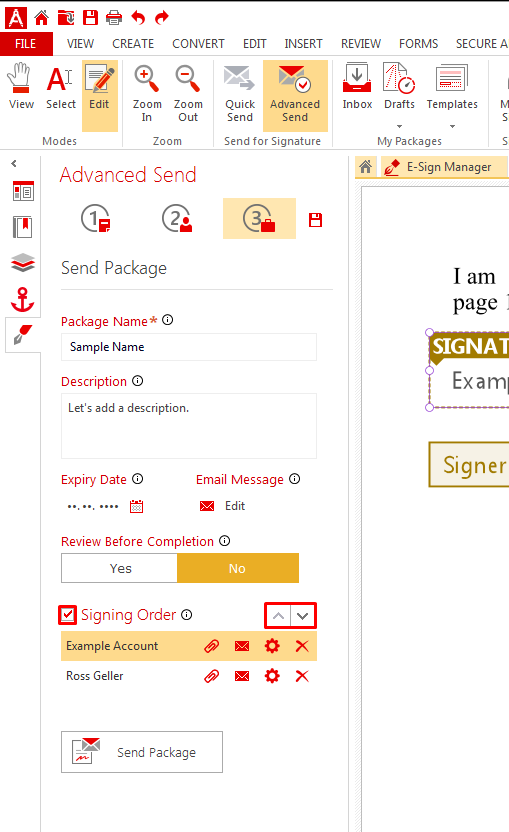 You may need to make some changes along the way. You can always cycle between steps.
Click any step to open its options.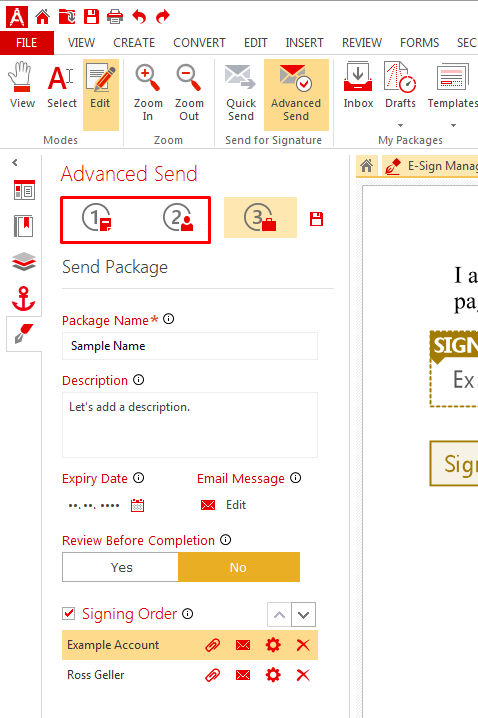 Click Send Package when you are ready to continue.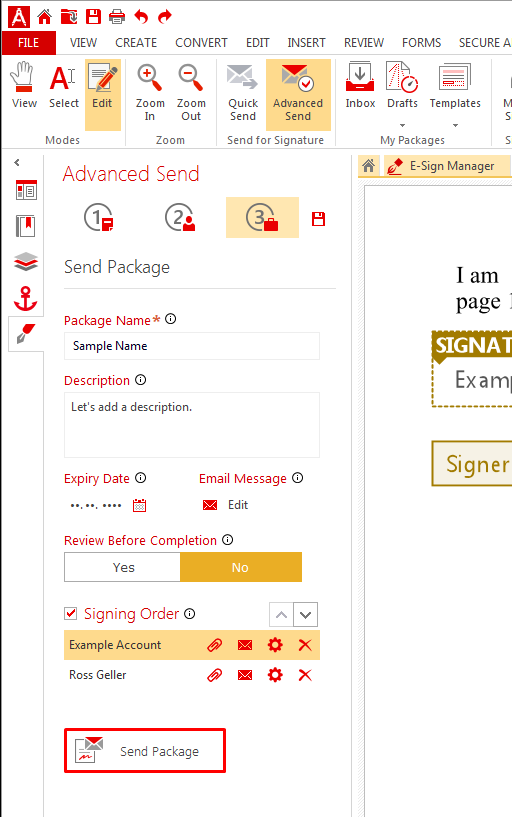 A summary will open.
Click Modify if you want to make any changes.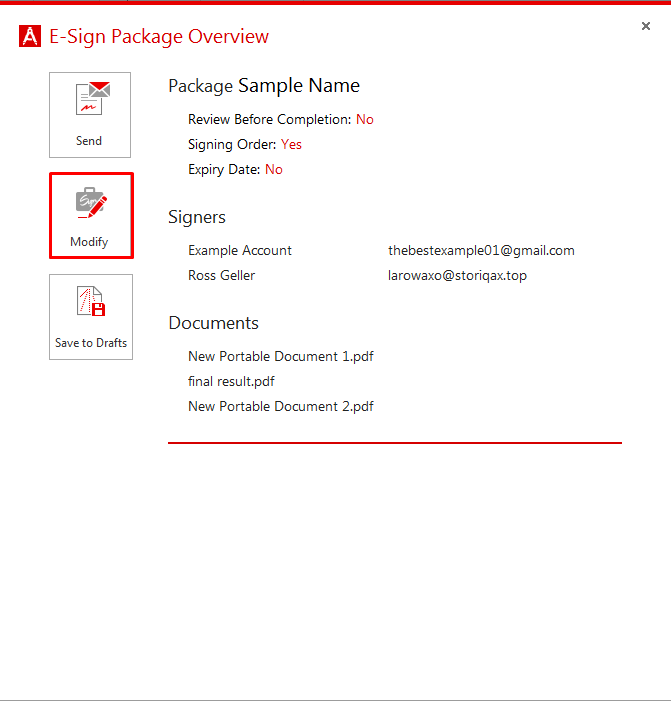 If you want to send this document package later, you can choose to save your work as a draft instead of sending. Click here for more information.
Click Save to Drafts.



You may be prompted to save your files.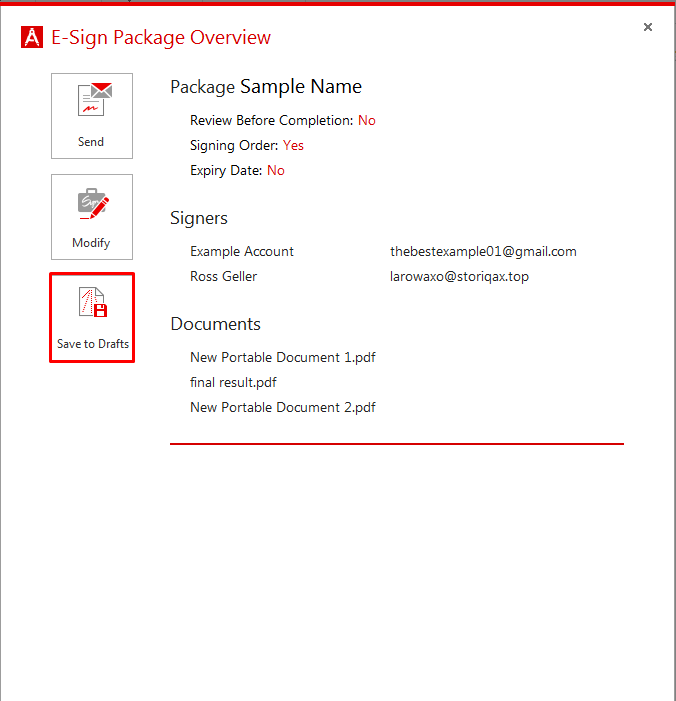 Click Done to close E-Sign.
Choose Go to Drafts to view your drafts.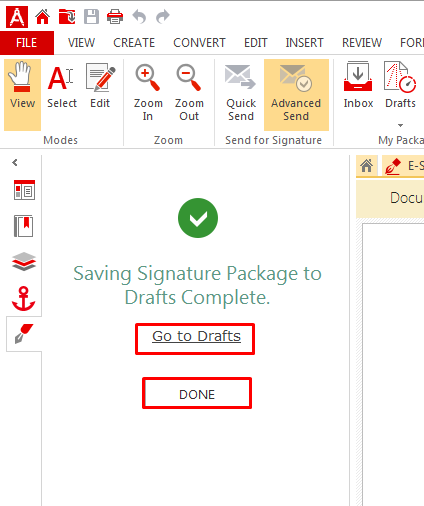 You can open this document package again from your drafts and send it at any time.

When you are in the E-Sign Package Overview, you can send your document package.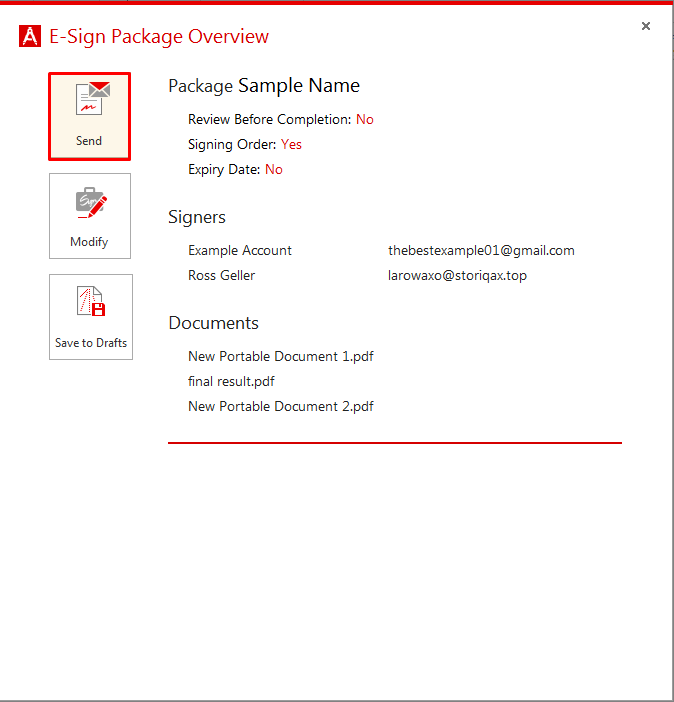 You will see this window as everything is being sent.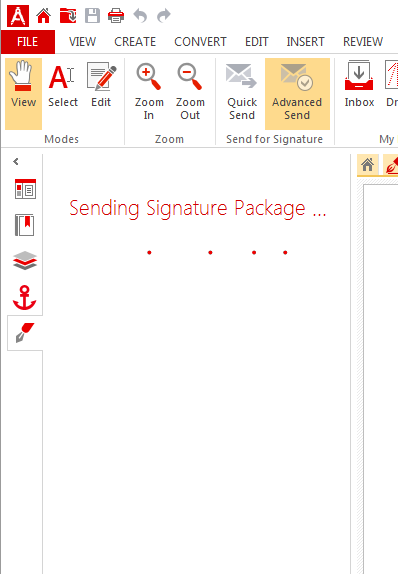 A confirmation will open.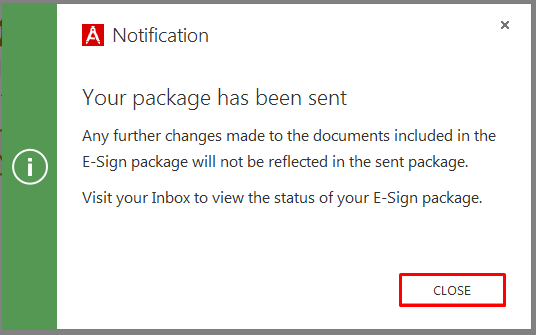 You have now sent out your document package!