In the Insert Module, you will see the Page Number feature. Click it and then choose Insert Page Number:





The Range section will let you choose which pages you want to be numbered. Here is a description of each section:
All – This will number all the pages in your document.
Current – This will number only the current page.
First – This will number only the first page.
Last – This will number only the last page.
Range – You can decide a range of pages to be numbered.

The highlighted option will be the selected one: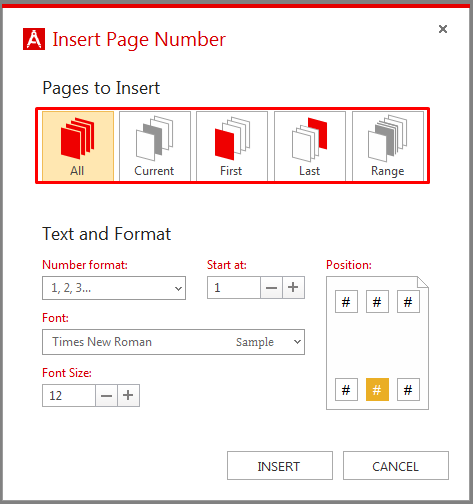 The Text and Format options will let you decide the format of the numbers on the pages. Here is a description of each section:
Number Format – Choose from available number formatting options in this dropdown menu.
Start At – This determines which page number starts the numbering. For example, you may wish page 1 to start at the actual page 3 of your document.
Font - This lets you choose a font from the available list.
Font Size – Here you can choose how big or small the numbers should be.
Position – Choose between 6 possible page positions for your numbers.


When you select Insert, the page number will be added to your document: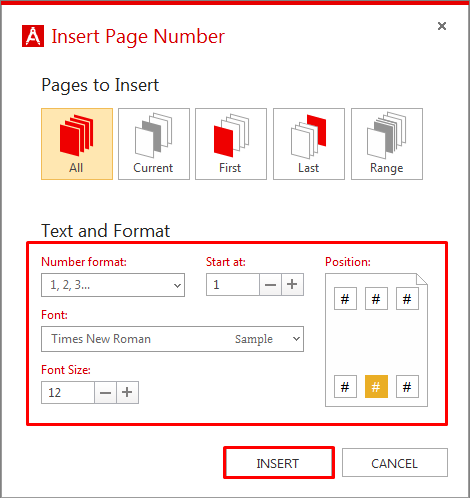 You can remove page numbers in the Insert Module. Click on Page Number and then Remove Page Number.




In the window that opens, you can choose the page range from which you wish to remove numbers. Select your desired page range and then choose Ok. The page numbers will be removed from the document: