Topics:

Templates will remember the exact placement and type of the signature fields on a document. It will also use the same signers applied to the fields when you saved the template.

This is a bit different than a layout. A layout will remember the placement and type of your signature fields, but it will leave them unassigned. Click here for more information on layouts.
If the E-Sign module is not available for you, you can purchase it here.

Creating a Template from Scratch
You will go through a flow that is essentially the same as creating a new document package. This article will provide a brief description of this process. For a complete walkthrough of all available options, click here.
Open the E-Sign module.
Click on Request Signature.
Click Browse to add the documents you want to use.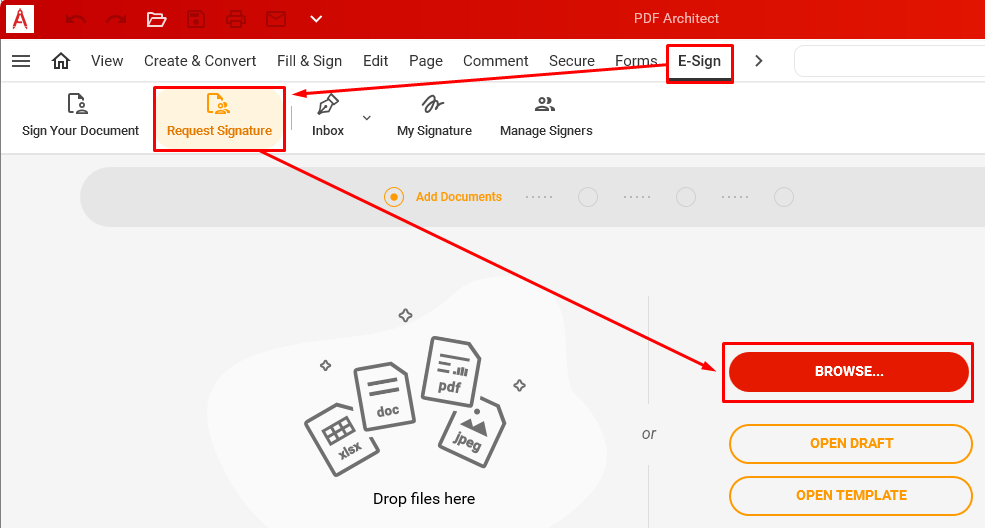 Click on Next to continue.

Click on the plus icon to add the signers.

Click here for more information about creating signers.
Click here for more information about configuring signer settings.

Click Next.

Add the signature fields.
You can choose the type of signature. You can request their Signature or Initials. The signer will be able to configure the aesthetic during the signing process. Click here to learn more.



Drag the signature field to your document to place it.
Left-click and drag the cursor to set the signature field's size.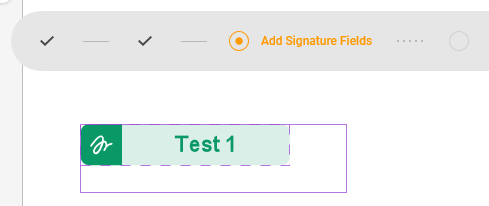 You can add fields that are preconfigured to help you capture information from the signer.
Choose a field from the list on the right and drag it to the document to place it.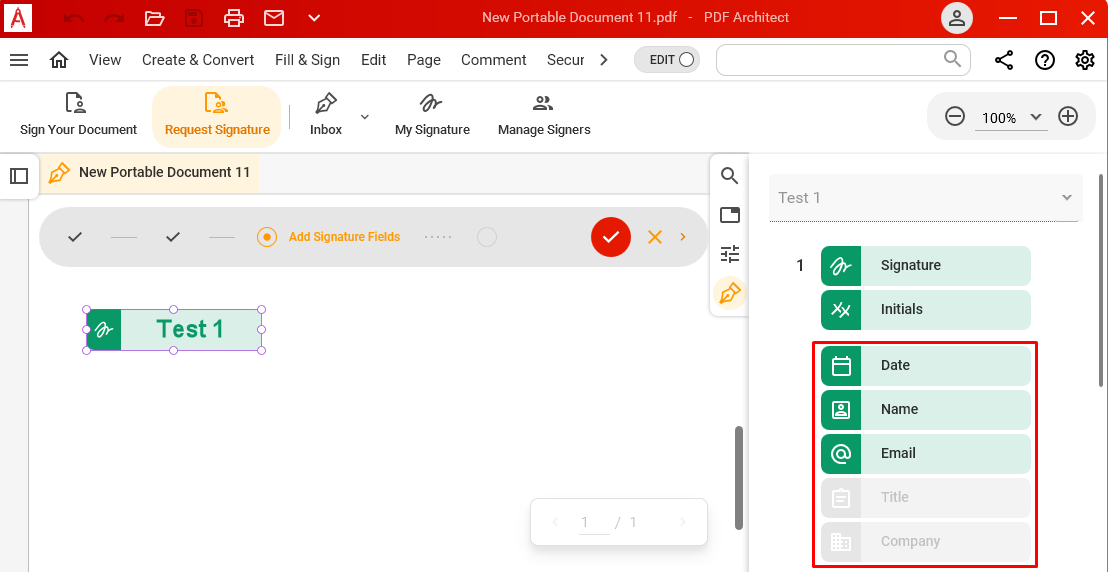 You can add multiple signature fields of different types across your documents. Each signer will be provided a different color.
Once you have set up your signature fields, click Next.




In the last step, you can add the finishing touches to your document package by toggling the switches next to the options.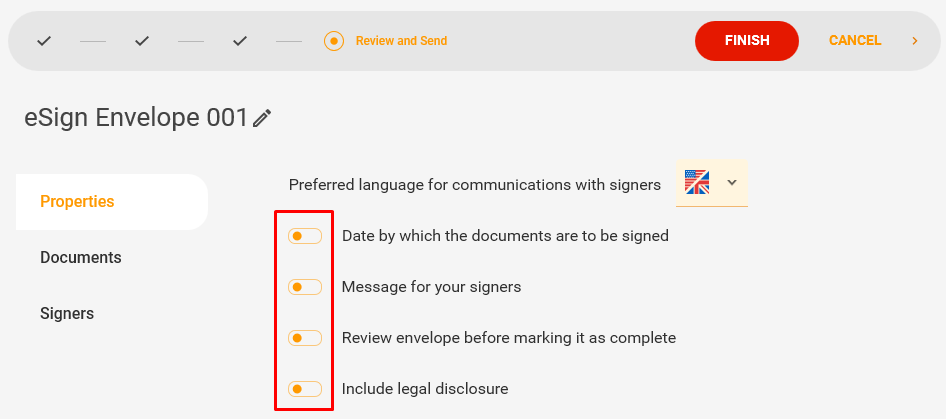 Click on the arrow and choose Save as new Template and it will be added to your template list.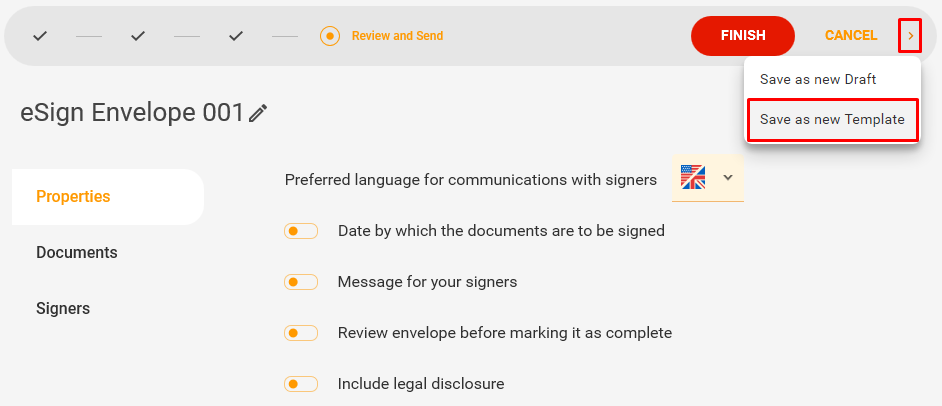 Saving a Template from your Inbox
You can take any envelope or draft you have already created and save it as a template. Click here to learn more about drafts.
Open the Inbox.
Click on the Diskette icon to create your template.

Add a Template Name.
Click Save to create the template.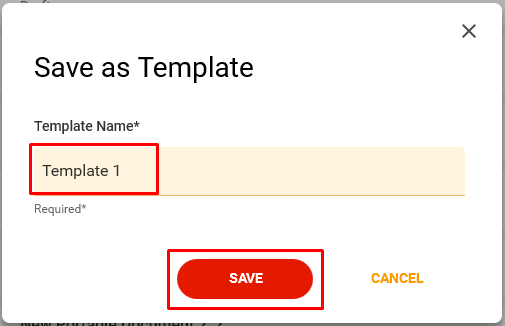 Applying a Template
Open the E-Sign module.
Click on the arrow next to Inbox and open the dropdown for Templates.
Pick your template.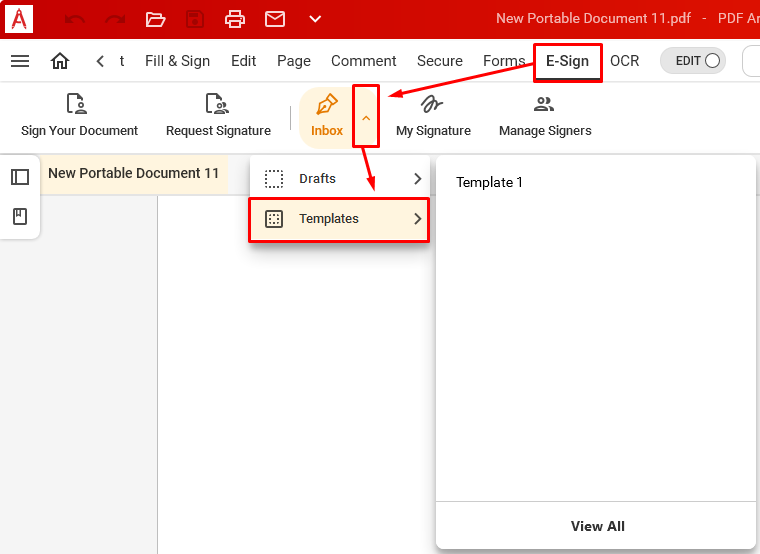 Your template will open ready for you to add the finishing touches and send.